Crane Maintenance and Inspection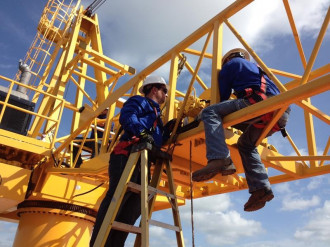 All Gulf Crane Services (GCS) offshore crane mechanics are thoroughly trained and certified with hands on evaluations to inspect and maintain cranes. Our men use API RP 2D latest edition absolutes for inspections and maintenance. GCS can do quarterly, semi-annually and annual inspections plus pull tests. GCS offshore mechanics are experienced in general maintenance, exchanges of wire rope, pendant lines, balls and hooks, winches, sheaves, booms, winches, hydraulics and engines. GCS mechanics can also replace pedestals, ball rings, cabs, gantry's to the entire crane. Whatever your needs you can depend on GCS to meet them with satisfaction guaranteed.

We can refurbish a crane from the tip to the pedestal. You can be assured by using GCS highly qualified crane mechanics that you will be receiving service and reliability you can rely on, with fewer mechanical breakdowns or BSEE infractions.
As you contemplate making additions to your cranes, consider using the state of the art Cranesmart technologies to further protect your cranes during operation. Money spent on safety will greatly lower your risk for incidents and infractions.