Welding & Fabrication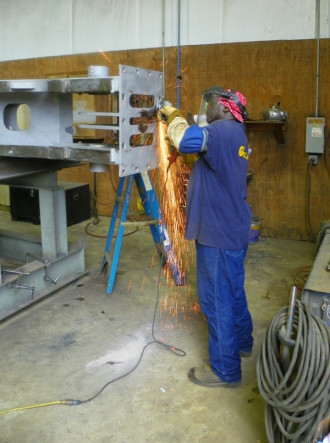 Our in-house fabrication department meets demands for a variety of items e.g. winches, booms, and gearboxes for the offshore industry and marine crane manufacturing. Gulf Crane Services is qualified by meeting API requirements and 6GR Certifications for welders. A team of supervisors and managers with hands on experience totaling over 200 years' combined knowledge support this team of welders.
This department performs all repairs to booms, pedestals and associated crane parts. Welding and any fabrication is performed in accordance with API-2C and Q1 plus any other customer required specifications. Hydraulic, pneumatic, and electrical work is performed in compliance with applicable industry or OEM specifications. Welders are 2G, 3G, 4G and 6GR certified in Stick and Flux-core welding procedures. In addition, we train all welders to be Dye Pin and Magnetic Particle Certified. Our welding team is comprised of a crew of 60 plus years' experience and do work offshore.